We offer Teas from the Lipton Tea Company & The Bigelow Tea Company
Lipton says, "We never compromise on quality, so you don't have to, either."
Only the best tea leaves go into LIPTON teas. We source our tea leaves from around the world and expertly blend them so you can enjoy a premium tea experience. Rich in protective flavonoid antioxidants, LIPTON black tea is refreshing, delicious and natural. No wonder LIPTON is America's favorite tea.
Enjoy LIPTON Tea hot or iced – caffeinated or decaffeinated. You'll reward yourself with fresh, pure taste and all those healthy flavonoid antioxidants that make tea a great choice your body will love.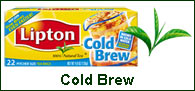 Bigelow - Green Tea and Herb Tea
R.C. Bigelow, Inc. has produced quality speciality & gourmet teas since 1945. Based in Fairfield, CT, the company takes deep pride in its family heritage and its successful growth into one of the nation's leading producers of specialty teas.
Bigelow® Certified 100% Organic Green Tea - Tea with a healthy attitude!
Some Facts About Green Tea
Certified Coffee Service offers the Bigelow Tea Company product line. We welcome you to learn more about the health benefits of drinking green tea. We offer green teas for drinking pleasure, however we cannot ignore the ongoing scientific studies and positive publicity that green tea is receiving over the exciting potential health benefits of green tea consumption.
Latest Tea & Health News
Anti-Cancer Compound in Green Tea Identified (Reuters - by Patricia Reaney)
Black tea consumption may lower bad cholesterol levels and could one day be used to help reduce the chance of heart disease for those at risk, U.S. researchers said Tuesday. (MSNBC)
Facts about Caffeine
Did you know that green tea contains only 1/4 to 1/2 the amount of caffeine contained in coffee?
Caffeine Average Milligrams per 8 oz. Serving
Coffee 100 - 120
Green Tea 25 - 50
Black Tea 40 - 60
Other Teas Selections